Australian Butterfly Sanctuary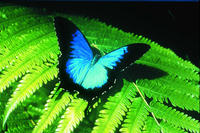 Be dazzled by more than 1,500 tropical jewel-colored butterflies at the Australia Butterfly Sanctuary. Located in the heart of Kuranda, the Australian Butterfly Sanctuary is the largest butterfly flight aviary in Australia. Wander through the landscaped gardens that replicate the natural rainforest environment as hundreds of butterflies float around you. Complimentary tours take place through the day and a 'Behind-the-Scenes' Laboratory Tour is also included with entry.
Price: 20 AUD
Duration: Varies
Cairns ZOOM and Wildlife Dome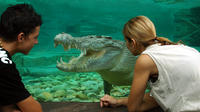 Discover the sights and sounds of the rainforest right in the heart of Cairns at the Cairns ZOOM and Wildlife Dome. See native birds fly freely around you in the glass-enclosed rooftop dome, get eye-to-eye with Goliath the saltwater crocodile, and meet the reptiles, wallabies and koalas. For adventure lovers and thrill-seekers alike, there are plenty of activities to test your skill and challenge your bravery. Test your skill on the ropes course, ride on one of the four different zip lines, or take the plunge with a dome jump! There is something for everyone.
Price: 24 AUD
Duration: Flexible
Kuranda Rainforestation Nature Park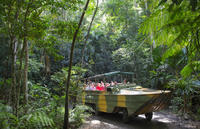 Explore Australia's World Heritage-listed tropical rainforest at the Rainforestation Nature Park in Kuranda. The park is set on 100 acres (40 hectares) of pristine rainforest within five minutes of Kuranda village, accessible from Cairns by road or by the Skyrail Rainforest Cableway or the Kuranda Scenic Railway (transport between Cairns and Kuranda is not included). This eco-friendly Kuranda attraction offers three unique experiences: the Army Duck Rainforest Tour with Tropical Fruit Orchard, Pamagirri Aboriginal Experience, and the Koala and Wildlife Park.
Price: 50 AUD
Duration: Varies
Ultimate 3-Day Great Barrier Reef Cruise Pass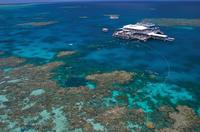 For the ultimate Great Barrier Reef experience, grab an Ultimate 3-Day Great Barrier Reef Pass. Save money and see the reef from every angle on three cruises over seven days. Sail to Low Isles or Green Island, or explore the reef from below on a snorkel and scuba diving catamaran cruise to the Outer Great Barrier Reef. The Ultimate 3-Day Great Barrier Reef Cruise Pass is your great value ticket to the reef.
Customize your own Great Barrier Reef experience. Choose three cruises from the following list to make up your Great Barrier Reef pass. Your pass is valid for three full-day cruises starting from the first time of use over seven consecutive days. You'll be required to enter a travel date at time of booking, this is only required as an indication and you'll be required to re-confirm your selected cruises at least 24-hours prior to first departure.
Price: 511.5 AUD
Duration: 3 days