ATV Quad Bike Tour from Cairns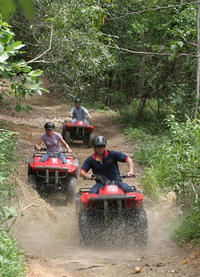 Zoom through amazing off-road and dirt trails on a guided ATV tour from Cairns, Palm Cove or the Northern Beaches. Your fantastic guide will ensure that you have as much fun as you can handle while riding through pockets of rainforest, sugarcane fields and mangroves. Perfect for beginners or experienced riders!
Price: 140 AUD
Duration: 3 hours
Cairns Bungy Jump and Minjin Swing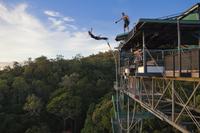 Leap into an adrenaline-fueled adventure with a bungy jump or Minjin Swing at the Cairns Bungy Tower, located in lush rainforest with views of the Coral Sea and the Great Barrier Reef. Whether you are a first-time jumper or an experienced thrill-seeker, you'll experience the exhilaration of soaring through the air when bungy jumping or taking the Minjin Swing, and the professional staff will make sure you have fun and stay safe. Back on the ground, enjoy relaxing around the sundeck, bar and gardens as you watch the antics of your fellow jumpers!
Price: 129 AUD
Duration: Varies
Cape Tribulation, Daintree River Cruise and Bloomfield Track Small Group Tour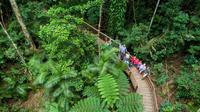 Take a day trip from Cairns or Port Douglas to cruise the Daintree River and explore the Cape Tribulation rainforest. You'll have free time at Cape Tribulation to take a guided walk and drive the 4WD-only Bloomfield Track.
Price: 205 AUD
Duration: 11 hours 30 minutes
Daintree Rainforest Zipline and Wildlife Habitat Day Trip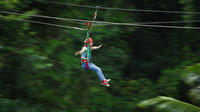 Zipline through the UNESCO World Heritage-listed Daintree Rainforest and get up close to native Australian wildlife on a fun-filled day trip from Cairns, Palm Cove or Port Douglas. After hotel pickup, visit the Port Douglas Wildlife Habitat and see Australian wildlife, such as the endangered cassowary, and enjoy a tropical picnic lunch in the Daintree National Park. Then, spend the afternoon soaring over the treetops on a zipline adventure, where you'll take in views of the rainforest below and out to the Great Barrier Reef and cruise along the Daintree River.
Price: 255 AUD
Duration: 12 hours
Full-day Horse Riding and ATV Tour from Cairns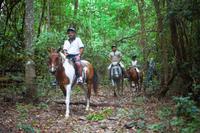 Enjoy a day of nature, horseback riding and ATV quad bike riding on this full-day tour from Cairns, Palm Cove or the Northern Beaches. Perfect if you only have one day for an adventure! Let your skilled guides lead you through pockets of rainforest, mangroves and sugarcane fields by two very different modes of transportation and experience the bush land like you never could imagine.
Price: 210 AUD
Duration: 5 hours 30 minutes
Hartley's Crocodile Adventure Half-Day Tour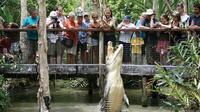 Explore Hartley's Crocodile Adventures, an award-winning eco-tourism attraction located between Cairns and Port Douglas. Cruise the wetlands to see crocodiles lazing on the riverbanks and witness the stealth and power of these prehistoric animals at the Crocodile Attack show. This innovative wildlife park has five distinct zones, showcasing Australian wildlife in their natural environment. Enjoy guided walks, keeper-talks, animal shows and a behind-the-scenes look at crocodile farming.
Price: 98 AUD
Duration: 5 hours
Horse Riding Tour from Cairns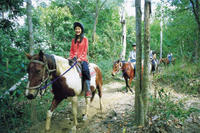 Explore sugarcane fields, rainforest and mangroves on a horse-riding tour from Cairns, Palm Cove or the Northern Beaches. Perfect for beginners or experienced riders, your horseback ride will take you through beautiful countryside with a stop for a 'billy' tea over a camp fire.
Price: 130 AUD
Duration: 3 hours
Reef and Rainforest Tandem Sky Dive in Cairns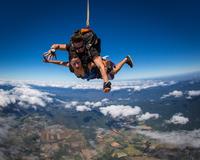 Looking for some adventure in paradise? Get high in the sky on a tandem sky dive over Cairns with spectacular bird's-eye views of the Great Barrier Reef and World Heritage-listed Rainforest. No experience necessary!
Price: 274 AUD
Duration: 3 hours