Aboriginal Cultural Daintree Rainforest Tour from Cairns or Port Douglas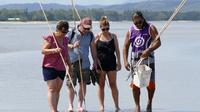 Experience the Daintree Rainforest and Australia's rich Aboriginal culture on this full-day tour from Cairns or Port Douglas. Learn about traditional hunting and gathering techniques on Cooya Beach with an indigenous guide, then visit the World Heritage-listed Daintree Rainforest. Gain insight into Australia's indigenous heritage and marvel at the natural beauty of the forest, with two options for the afternoon: walk through the forest to a watering hole; or upgrade to tour the forest with an Aboriginal guide who shares Dreamtime stories and deep knowledge of the land. Throughout the day, enjoy a hands-on experience on this small-group tour limited to 18 participants.
Price: 255 AUD
Duration: 11 hours
Cape Tribulation, Mossman Gorge, and Daintree Rainforest Premium Day Tour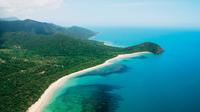 Explore the World Heritage-listed Daintree Rainforest, Mossman Gorge and Cape Tribulation with an expert naturalist guide. Traveling by a specially designed vehicle in small group of no more than 14 participants ensures a personalized experience.
Price: 225 AUD
Duration: 12 hours
Cooktown 4WD Adventure Tour from Cairns or Port Douglas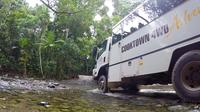 Explore the historic township of Cooktown as you drive through the magical World Heritage Listed Daintree National Park and the famous Bloomfield Track on this 4WD tour from Cairns, Northern Beaches and Port Douglas. The journey is just as spectacular as the destination. You'll venture into rainforest, the outback and cross the Daintree River before reaching Cooktown, home of Australia's first European settlement, where you'll have free time to visit the James Cook Museum (optional).
Price: 295 AUD
Duration: 14 hours 30 minutes
Daintree and Cape Tribulation Tour from Cairns

Travel in air-conditioned comfort in your luxury purpose-built vehicle to Cape Tribulation; through some of the oldest rainforest in the world.<br />Enjoy an included cruise on the Daintree River, delicious tropical lunch set amongst the rainforest, and a walk on famous Cape Tribulation Beach. Listen to commentary by your guide on a tour of the Mossman Gorge Centre and enjoy afternoon tea before returning home.
Price: 214 AUD
Duration: 12 hours
Daintree Rainforest, Cape Tribulation and Rainforest Habitat Wildlife Sanctuary Day Tour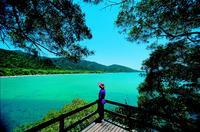 Travel from Cairns or Port Douglas along one of Australia's most scenic coastal roads to Cape Tribulation in World Heritage-listed Daintree National Park. Along the way, visit Wildlife Habitat Port Douglas, Mossman George, the Daintree River and more. Gaze across the Coral Sea to the inner Great Barrier Reef when you stop at Mt Alexandra Lookout, and enjoy a refreshing lunch and optional swim at Cape Tribulation Beach. See wildlife such as koalas, kangaroos, cassowaries and crocodiles as you explore the natural beauty of the Wet Tropics of Queensland.
Price: 179 AUD
Duration: 11 hours
Kuranda Scenic Railway Day Trip from Cairns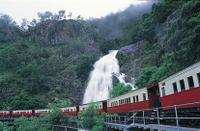 Experience the rainforest beauty of Tropical North Queensland on a scenic day trip from Cairns. There are five options to choose from that provide different activities, so select what interests you most. All options include a journey on the historic Kuranda Scenic Railway and a ride on the Skyrail Rainforest Cableway. Other attractions include Tjupakai Aboriginal Cultural Park or Rainforestation Nature Park, and you' ll have free time in the village of Kuranda to browse its markets, have lunch or visit wildlife attractions like Birdworld or Kuranda Koala Gardens. (Food, drinks and activities in Kuranda are at your own expense, unless otherwise stated.)
Price: 164 AUD
Duration: Varies
Kuranda Scenic Railway, Skyrail, Great Barrier Reef Helicopter Tour and Cruise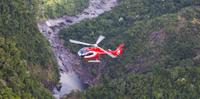 Hit the rails, the rainforest, the sky and the reef in an action-packed day trip from Cairns! You'll take the Kuranda Scenic Railway and Skyrail Rainforest Cableway between Carins and Kuranda, soar over the Great Barrier Reef on a helicopter tour, take a lunchtime cruise on the reef, then spend the afternoon swimming or snorkeling before cruising back to Cairns. What a rewarding day out!
Price: 645 AUD
Duration: 9 hours
Mossman Gorge, Aboriginal Dreamtime Walk and Daintree River Crocodile Cruise Day Trip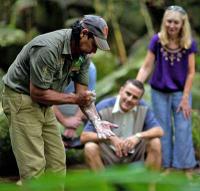 You've done the reef now spend a leisurely day exploring the rainforest on a Daintree day trip from Cairns, Palm Cove or Port Douglas. You'll start your day with a gentle rainforest walk around Mossman Gorge led by a local Aboriginal guide. Enjoy lunch at the Daintree Teahouse before continuing your Daintree day trip with a croc-spotting cruise on the river and take a short tour of stunning Port Douglas.
Price: 216 AUD
Duration: 10 hours
Skyrail Rainforest Cableway Day Trip from Cairns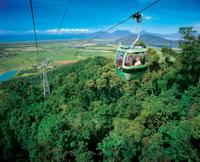 Enjoy the tranquility of the rainforest as you soar above the canopy aboard the Skyrail on a day trip to Kuranda from Cairns. Choose from a variety of options including Kuranda Scenic Railway, Tjupakai Aboriginal Cultural Park or the popular Rainforestation Nature Park.
Price: 164 AUD
Duration: Varies