Great Barrier Reef 30-Minute Scenic Helicopter Tour from Cairns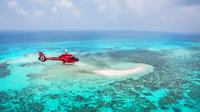 Experience the sheer size and beauty of the Great Barrier Reef and gain a true appreciation of one of the seven natural wonders of the world. This flight includes views of beautiful Green Island and Fitzroy Island and on low tide, Vlasoff Sand Cay and Upolu Sand Cay. Sightings of manta rays, turtles and other marine life are not uncommon. If you're flying with us in the winter months, there is even a chance of spotting whales!
Price: 399 AUD
Duration: 60 minutes
Green Island Day Trip by Scenic Helicopter and Cruise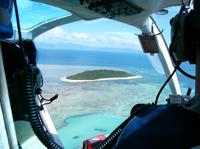 Travel by scenic helicopter to Green Island on the Great Barrier Reef. As you fly from Cairns, take in the views of the rainforest and the magnificent colors of the Great Barrier Reef below. Spend four hours on Green Island where you can enjoy swimming, snorkeling, walking through the rainforest or exploring the reef by glass-bottom boat. Return to Cairns by high-speed catamaran.
Price: 499 AUD
Duration: 7 hours
Hot Air Ballooning Tour from Cairns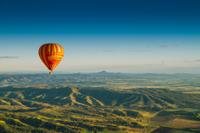 Don't miss the chance to go for a hot-air balloon ride over Far North Queensland's Atherton Tablelands - it's one of the top "must do" activities when visiting the tropics. You have the choice of pick-up from Cairns, the Northern beaches or Palm Cove hotels.
Price: 260 AUD
Duration: 4 hours
Private Helicopter Tour: Great Barrier Reef Island Snorkeling and Gourmet Picnic Lunch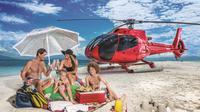 Take a scenic helicopter tour from Cairns and spend the morning relaxing on far-flung Vlasoff Cay, surrounded by the beauty of the Great Barrier Reef (or Turtle Beach if Vlasoff Cay is occupied). You will land on this remote coral sand island with all the supplies you'll need for your two-hour island retreat: a gourmet picnic hamper including champagne and nibbles, picnic blanket, beach umbrella, deck chairs and snorkeling equipment. What more could you wish for!
Price: 789 AUD
Duration: 2 hours 30 minutes
Ultimate Great Barrier Reef and Rainforest 45-minute Helicopter Tour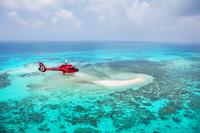 Fly high over the Barron Gorge and stunning rainforest canopies before heading over magnificent sights such as the Great Barrier Reef, it's spectacular islands and sand cays. This 45-minute helicopter flight allows one to see the 'best of both worlds', as it showcases the highlights of heritage rainforest and the Great Barrier Reef.
Price: 499 AUD
Duration: 45 minutes